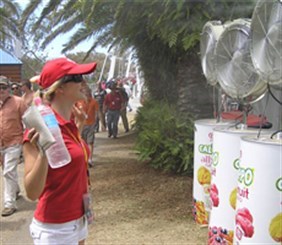 Promote your business at outdoor events with the Ozmist CanCool unit. Used at the Clipsal 500 in Adelaide, Tour Down Under, Indy 500 and Movie World on the Gold Coast, Melbourne Grand Prix and Crown Casino are just to name a few.
The 'CanCool' is manufactured by Ozmist in its Wangaratta factory and is truly unique in its design and operation.The unit comprises of a 600mm weather resistant axial fan mounted on top of a 600mm aluminium drum that is internally welded. The pump unit and electrical components sit in a sealed section at the top of the drum. Below this is a 190-litre water tank, providing enough water to run for a full day without the need to refill.
The CanCool is a portable cooling system designed for promotional use at outdoor events. A canvas banner can be digitally printed and wrapped around the drum providing the perfect advertising medium at events. Banners are easily changed to reflect the sponsor or message. Fresh cool air on a hot summers day attracts plenty of attention and with the powerful fan throwing cool air approximately 10 meters, it is certainly an attention grabber!
Ozmist has a limited amount of the Can

Cool

units which are available for hire. Please call: 1300 306 478 for more information
Can Cool Specifications
Overall height 2.3 meters

Super quite high-pressure pump enclosed in the 'can'

The internal tank holds 190 litres of water and lasts all day

Simple SETUP – plugs into a standard power outlet.

Misting ring and nozzles are made from high-grade stainless steel

CanCool' can be branded with a laser printed advertising skirt.