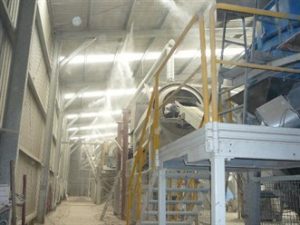 Ozmist Dust Suppression Systems are an extremely cost-effective and efficient way of controlling fugitive dust. It is very simple in operation, has a low initial purchase cost, no adverse effects on product quality, low operating costs and will not have any detrimental effects on plant and machinery. The Ozmist system utilizes millions of tiny water droplets that averages 10 microns in size. The fine droplets attach themselves to dust particles and knock them out of the air without adding any detectable moisture to the process.
How does it work?
The state of the art Ozmist pump module pressurizes mains water to 1,000 PSI or 70 BAR. The high-pressure water is fed from the pump module through high-pressure nylon tube to the misting or atomization lines. Atomization lines are constructed from pre-cut lengths of high-pressure nylon or stainless steel tubing. Chrome plated "Push Lock" nozzle unions join tube. Specially designed nozzles with a stainless steel face are then screwed into the unions.
The atomization lines are either fixed to the building structure with mist blown over the nominated areas or suspended above the area on a stainless steel cable. The stainless steel cable is fixed to the building structure and tensioned to support atomization lines. Atomization lines are spread evenly across the area to provide complete coverage and suppress dust.
The specially designed nozzles have a 2 piece body that incorporates an anti-drip check valve. When the pump module shuts down the check valve stops the flow of water to the nozzle orifice, eliminating drips. Water usage is minimal with each misting nozzle using just .055lpm or 3.6 litres per hour.
The system can be fully automated to facilitate easy and trouble-free operation. Control can be either in the form of a humidistat, motion sensor, PLC control or via the buildings CBUS System if desired. Electrical running costs are just cents per hour.