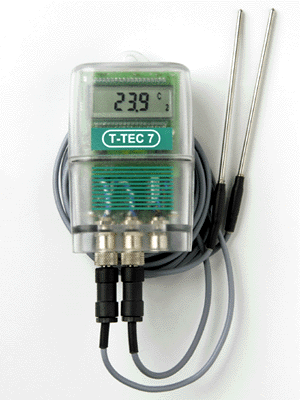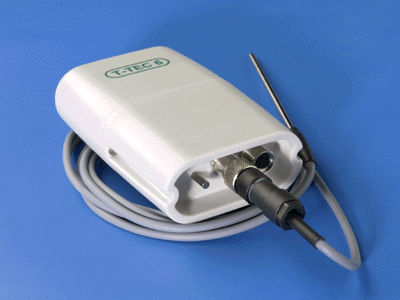 T-TEC Temperature Data Logger with Dual Temperature Sens
Temperature data logger with two sensors (one of which is on a lead). Optional display. Watertight. To use, connect to a computer to start and stop and download. Optional SMS and/or email on the alarm. Large memory. Collected data can be distributed through the cloud. Data logger can be controlled over the cloud, various security settings possible.
T1 Temperature Range
-40 to 85 °C
T2 Temperature Range
-100 to 20 °C
T6 Temperature Range
20 to 160 °C
Other Features
Memory: 10, 600 logs per channel
21, 200 logs if only 1 sensor used
Ingress Protection (IP): 68, Dust and watertight, IEC standard 60529
Sensor option 1F: Fixed internal and a connector for a remote sensor
Sensor option 2F: Fixed external and a connector for a remote sensor
Sensor option 3F: With connectors for two remote sensors
Size
Height: 10.50 cm
Width: 6.00 cm
Depth: 3.00 cm
Weight: 0.40 kg
Without LCD Display (Type 6)
With LCD Display (Type 7)
Low battery warning
Logging indicator
Visual alarm
Display alternates between the two channels
Further technical specifications on the data logger units and sensor accuracies and resolutions.