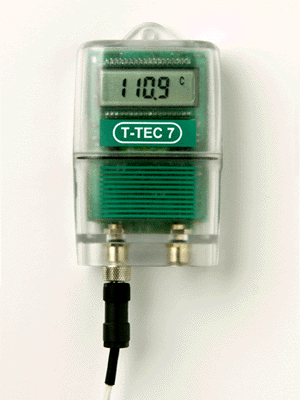 The remote Pt100 sensor offers a wider range of temperatures than thermistor sensors. The two main temperature ranges are from -200 to +120 °C and -40 to 300 °C.
PT100 sensors are very stable. The T-TEC P data logger takes Pt100 sensor input and records it.
A Temperature Range
-200 to 120 °C
B Temperature Range
-40 to 120 °C
C Temperature Range
-40 to 300 °C
Other Features
Memory: 20,000+ logs
Ingress Protection (IP): 68, Dust and watertight, IEC standard 60529
Sensor option: 3P: for remote Pt100 sensor
Size
Height: 10.50 cm
Width: 6.00 cm
Depth: 3.00 cm
Weight: 0.40 kg
Without LCD Display (Type 6)
With LCD Display (Type 7)
Low battery warning
Logging indicator
Visual alarm
Further technical specifications on the datalogger units and sensor accuracies and resolutions.