Introducing Computrols LX Controllers
Computrols LX controllers (datasheets available here) are the culmination of years of research and development. LX brings the latest computer and electronics technology right to your facility, effortlessly integrating into your existing Computrols Systems. So why upgrade?

100% Backward Compatible
Computrols' new LX-Line of controllers is designed as a drop-in replacement for our classic X-Line. Every feature available on X is rolled into LX. No upgrades, no reprogramming, no missing features. Upgrading is this simple:
Power down and unplug the old X-Line

Plug in the new LX

Power up and set the IP address, and…

Let CBAS do the rest for you.
Sure, there is a host of new features and advantages with the new LX but you can take your time enjoying these new features. Meanwhile, getting started with LX is as simple as plug-and-play.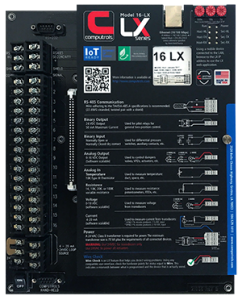 The computer at the heart of the LX controller is a quantum leap in processing power and storage. All the technical specs are hundreds and thousands of times better than our classic X controller. Of course, these are just numbers on a page. What does that mean for building control?
Faster input sampling

Faster control loops

Faster logic statements – run all logic every second!

More points – especially good for protocol interfaces

Onboard history

Onboard graphics, and…

Many more onboard features than ever before!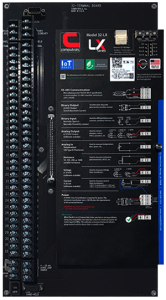 Network Security
In a world of ever-increasing concerns over network intrusions, the LX brings unprecedented security features to an HVAC controller. Under the new LX, all the controllers and computers can be configured to communicate using Secure Sockets Layer (SSL). This industry standard protocol uses strong asymmetric cryptography that was impractical to implement at the controller level before now. So rather than relying on your internal security (as you do with a classic BAS network), a network of LX controllers can reside on any network, anywhere, anytime. It can even have a static IP on the Internet. So reduce your security risks and enjoy the freedom of easy networking.
Computrols products have a reputation in the industry for being easy to install. Features like jumbo screw terminals, two-board design and 4-in-1 points help to fortify this well-deserved reputation.
So it is no surprise that advances in our 4-in-1 circuitry have taken the Computrols "easy installation" to a new level. When it first powers up, the LX goes into "Protection Mode" to prevent any damage to the controller or end device. Next, it interrogates the terminated wires looking for problems. If something's not right, it stays in protection mode and lets the installer know of any problems.
So let's say that during the installation you accidentally connected:
A 10K thermistor to a point that's configured as a binary output

A relay where the LX was expecting a temperature input

A 0-10 VDC output, but there's a short in the wire, or…

A 10K thermistor, but the wiring is open
In any case, Wire Check has your back. Whether you're using a Computrols Hand Held Terminal (HHT), Android device, or CBAS Graphics Workstation, points with incorrect wiring are clearly displayed. "Wire" becomes the status of the point. Just correct the mistake and the status clears and begins updating.
Wire Check, just another way that Computrols saves you time and money, making your life easier.
USB Port
The new LX controller's standard features include a high-speed USB 2.0 serial port. USB has become part of the Computrols vision of what modern equipment controllers should be, and opens a doorway of possibilities.
Integrate thousands of plug-and-play devices on or near your equipment. Would you like to back up your database? No problem, just plug in a USB flash drive. Would you like to use a webcam for a live view the equipment? WiFi? BlueTooth? Printer? The list of supported devices is impressive and growing.
Emerging Standards—IOT Ready
The power and speed of the LX is just the beginning. The LX core runs an embedded version of its modern operating system. As standards, protocols and device drivers are released, Computrols updates the LX software. Integrate and go!
Are you ready for the Internet of Things (IoT)? We are, and we can't wait to bring emerging technology to building automation.
Configuration App
Although you can still use the trusty Computrols Hand Held Terminal, the LX showcases a new app that can do everything that the HHT can do and more. The Android platform gives the app the widest selection of mobile devices on the market. You can load it onto your compatible device or get a Nexus 7 from Computrols that is preconfigured and ready to go. The app is plug and play – simply use your Android device to set the LX IP address, view your inputs, or control your outputs. Modern and convenient.
Standalone HVAC Control
Many Computrols clients enjoy installing our current X-Line controllers as standalone applications (with no dedicated CBAS computer). The X-Line's Internet Protocol design makes this especially convenient. To do this you simply preconfigure the X-line with a laptop, unplug and leave the X alone. But, as with classic BAS controllers, this has some limitations:
There is no easy way to monitor or make changes. It's not cost-effective to have specialized software available for one controller.

The history is unavailable. If there is a problem and service is required, there is no record of the problem or the conditions leading to the problem.
But the LX provides next-generation features that make standalone configuration irresistible, combining controller and computer features into one. These include:
An onboard Web server to remotely monitor and control the LX via Web browser

Enhanced security, allowing the network port to be placed on the Internet

Onboard history archiving and retrieval for troubleshooting and analysis

Onboard backups to local SD card for added reliability
LX will make you rethink how you monitor and control satellite facilities and equipment. One controller – a single piece of equipment – with the power of a full automation system.
Software Power and Stability
Unlike the single processor on X-Line controllers, the main computer on the LX is dedicated to higher-level control, networking, and automation intelligence. Data sampling, data output, communications, and other low-level functions are off-loaded to several high-speed dedicated microprocessors. Each bank of 8-points has its own 50 MHz microprocessor. This gives LX points a very high-speed input sampling rate, sophisticated noise filtering, and a host of pulse counting and pulse generating options.
And for communication, each serial port also gets its own dedicated microprocessor. This makes protocol interfaces to devices running Modbus, BACnet and OPTO that much faster, cleaner, and more reliable. Whether it's VFDs, electrical meters or VAV controllers, LX serial ports are up to the task.
Want to see what you're missing? View the LX Comparison Charts
Datasheets
64-LX-Datasheet (PDF 715kb)
The 64-LX provides the best solution for largest air handlers and other equipment requiring up to 64 points.
32-LX-Datasheet (PDF 715kb)
The 32-LX provides the best solution for large air handlers and other equipment requiring up to 32 points.
16-LX-Datasheet (PDF 737kb)
The 16-LX provides the best solution for medium air handlers and other equipment requiring up to 16 points.
8-LX-Datasheet (PDF 715kb)
The 8-LX provides the best solution for smaller air handlers and other equipment requiring up to 8 points.
LX-Comparison-Chart (PDF 1.1MB)
Download a comparison of the features of our X-Line controllers to our newer LX-Line.
X / LX COMPARISON CHART – GENERAL
FEATURE SET
X-LINE
LX-LINE
COMPARE
On-Board Hardware
Main Processor
386EX
Sitara ARM Cortex-A8
Processor Clock Speed
25 MHz
1GHz
40 X
Million Instructions/Sec (MIPS)
≈11
2000
180 X
Non-volatile memory
1M
4G
4,098 X
RAM
512KB
512MB
1,024 X
Additional Memory Type
Clock Chip
Micro SD Card
 
Additional Memory
1 MB
32+ GB
32,768 X
USB Ports
–
1
Other Processors
–
SiLabs 8051 F580
On-Board Software
Access / HVAC Function
Different Firmware
All Inclusive
Sunrise / Sunset
External / Computer
Internal / DDC
X-Line Classic Firmware
✔
✔
Hand Held Server
✔
✔
On-board Web Server
✔
Android Device Server
✔
Secure File System
✔
Networking & Communication
Ethernet Speed
10 Mbps
10/100 Mbps
10 X
Ethernet Network Security
CBAS Authenticated
Socket Connection
Secure Sockets (SSL)
Max Serial Comm Speed
38.4 Kbps
115 Kbps
3 X
Serial Protocols
Different Firmware
All Inclusive
Internet Protocols
TCP
✔
✔
UDP
✔
✔
DHCP
✔
✔
Ping
✔
✔
SNMP
✔
HTTP
✔
HTTPS
✔
FTP
✔
…
…
✔
BAS Protocols/IP
 
 
 
BACnet/IP
✔
Modbus/IP
✔
X / LX COMPARISON CHART – POINTS AND CONTROL
FEATURE SET
X-LINE
LX-LINE
COMPARE
Point Types
Binary Input (Dry Contact)
✔
✔
Binary Output (24 VDC)
✔
✔
Voltage Input (0-10 VDC)
✔
✔
Voltage Output (0-10 VDC)
✔
✔
Temperature Input (10K)
✔
✔
Resistance Input
✔
✔
30 Volt Input (0-30 VDC)
✔
Pulse Count (10 KHz)
✔
Pulse Width (1 msec)
✔
Point Features
 
 
 
Overvoltage Protection
24 VAC
250 VAC
10 X
Point Sampling Rate
3 / sec
224 / sec
75 X
Noise Filtering
Median
Median Filter
A/D Resolution
12-bit
12-bit
Max Points *
500
5000+
10 X
Wire Check**
✔
DDC Speed
PID Loop Speed
100 msec
≤ 1 msec
100 X
% Time used on DDC
75%
3%
25 X
* Max Points and other resources vary with application. This benchmark is for typical point usage in an HVAC application.
** Wire Check is a system of automatic tools for determining wiring problems.
X / LX COMPARISON CHART – ACCESSORIES
FEATURE SET
X-LINE
LX-LINE
COMPARE
Supported Accessories
Computrols Hand Held
✔
✔
Android Device
✔
USB Memory Stick
✔
Micro SD Card
✔
Webcam
✔
Keyboard
✔
Mouse
✔
HDMI Monitor
✔
More to Come
 
…
 
Accessory Features
Local Control (Hand Held)
✔
✔
Local Control (Android Device)
✔
DB Backup (Micro SD Card)
✔
View Equipment (Webcam)
✔
WiFi Access (USB Access Point)
✔
Bluetooth Access (USB Bluetooth)
✔
Local Display (HDMI Monitor)
✔
More to Come
 
…