Computrols Building Automation Software (CBAS) is the simplest building automation system software to install, program, maintain, and operate. From its inception, CBAS was built with the end user in mind, enabling facility managers to make changes to their systems without the guidance of a trained technician. This approach has all but eliminated the need for our customers to carry hefty maintenance contracts like those required by many of Computrols' competitors.
CBAS is designed to control and monitor HVAC, lighting, access, and fire alarm systems. As with all of our products, Computrols' research and development team is continually bringing new advancements to CBAS with the goal of making the job of the facility manager as easy as possible. Many of the features in the software today have come from minds of our most innovative customers.
Auto-tuning PID Control Loops
No need to grind over calculations to make sure you don't overshoot setpoints. The decisions are made for you.
English Language If/Then Logic
No codes to memorize. As the needs of your facility change, it's simple to program CBAS. An example of this logic might be "if outside air temperature is greater than 85 degrees, then start chiller."
Multiple Views
CBAS offers three viewing options: hardware view, text view, and graphics view. Each offers a unique and thorough view of your system as a whole.
Internet Capability
CBAS comes equipped with an Internet protocol (TCP/IP) that can be used for controlling your system from anywhere in the world. TCP/IP also allows for networking multiple workstations.
Password Customization
Use custom passwords to ensure the integrity of vital data. This also provides the system administrator with a complete list of lockouts to choose from.
Controller Downloading
Allows the head end to upload all information to the controllers. This enables the controller to be truly stand-alone.
Remote Access
Having the ability to access your BAS via your mobile devices and desktop computers can be invaluable for engineers and facility managers on the move. CBAS Web gives you access anywhere, anytime.
Your tenants can utilize CBAS Web's user-friendly interface for overtime air and tenant billing. This feature automates the entire process, automatically sending invoices to property managers at the end of the month to be distributed to their tenants.
Unlimited History for All Points
Rather than having to set up trends, CBAS allows you to record histories on all of your points, all of the time, from the inception of the Computrols system. Your only limitation is hard drive space.
Real-time Energy Dashboards
We know you don't have time to dig into your energy usage on a daily basis, so CBAS Web gives you a quick, visually appealing view at the points that matter most to you.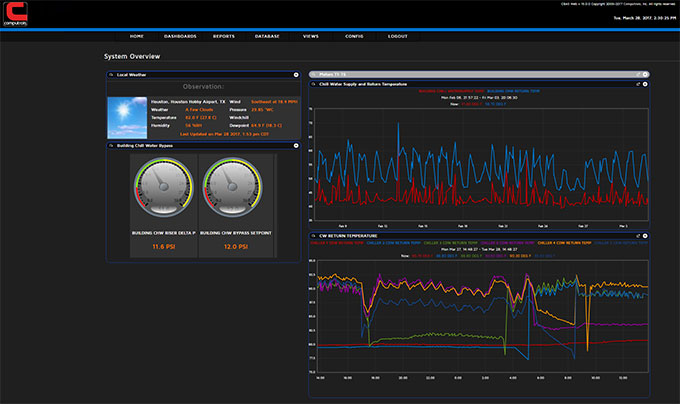 cbas screenshot
---
Datasheets & Manuals
CBAS_Datasheet (372 kb)
CBAS, the simplest building automation system software to install, program, maintain, nd operate. CBAS software is capable of seamlessly integrating with various manufacturers' field controllers.
Computrols_CBAS_Manual (8.2 MB)
User manual for CBAS (Computrols Building Automation System) Software.
CBAS-Web (329 kb)
CBAS Web is building automation via the Internet. This is Computrols' premier web-enabled building automation product.
CBAS-Web-Accounting-Module (116 kb)
The CBAS Web Accounting Module provides a complete invoicing solution for CBAS Web.
CBAS-Mobile (448 kb)
CBAS-Mobile has the power to monitor and control your building from a truly mobile web-enabled device. Whether a cell phone or PDA, you have the instant access you need no matter your schedule.
CBAS-Innovations (514 kb)
This three-page overview of CBAS features shows you first hand several popular features in CBAS via screen captures of the actual software being used.
Computrols-CBAS-Web-Manual (2.3 MB)
Official user manual for CBAS Web. Also, features the CBAS-Mobile user manual.
CBAS-Hot-Keys (183 kb)
Hot Keys for CBAS Graphics
CBAS_Network_Architecture (224 kb)
CBAS-Starter-Kit (438 kb)
The CBAS Starter Kit is a self-contained portable platform available to Computrols Distributors for the purpose of showcasing the technology available in the Computrols Internet Appliance line of Direct Digital Controllers.
CBAS-Sequencer (768 kb)
A sequencer takes several binary points and combines them into a single continuous analogue output. This feature can be found on the Point Program Screen of a Software Analog Output Setpoint in CBAS.
CBAS-Email-Alarm-Editor (560 kb)
Included to accommodate CBAS systems that have high-speed Internet service instead of dialup service, you can now send an email rather than just a page. The email message that is sent includes the name of the point and the status of that point. Read this document to see how.
CBAS-and-Veris-Hawkeye (67 kb)
Many building management companies are interested in monitoring energy usage, either for tenant spaces or for the entire building. Monitoring can be included in their CBAS system through the use of Veris Hawkeye meters.
---
CBAS Graphics
Free Visio Graphics Library
A basic Microsoft Visio library of HVAC stencils for CBAS application as well as small animations.
Overtime Air and Tenant Billing

Overtime Air and Tenant Billing
CBAS Web gives tenants the ability to schedule after-hours HVAC and lighting with a simple-to-use online interface accessible from any modern browser. On the other end of the spectrum, the platform allows property managers the ability to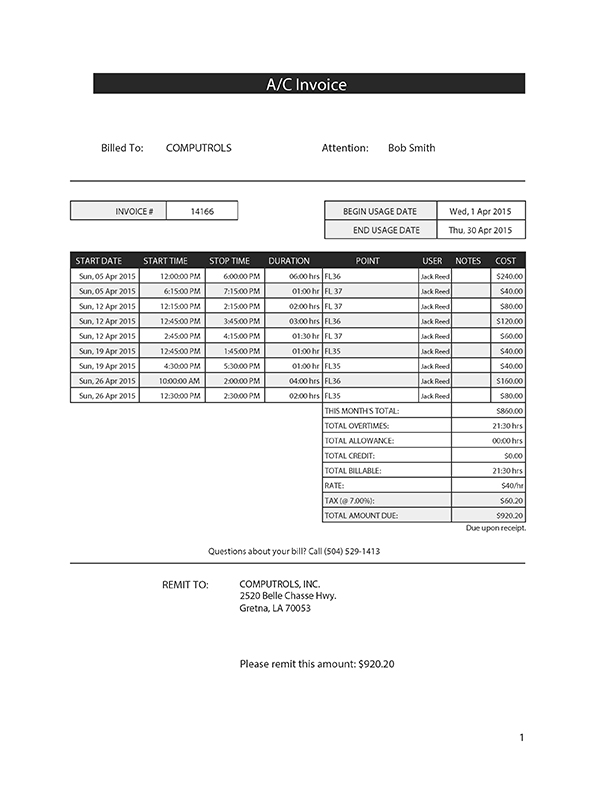 Click to Zoom automatically generate after hours billing invoices with the click of a button.
This easy-to-use invoicing system can also be set up to include variable rates by the tenant and the associated taxes that may be required by your city or state. By providing an automated billing system, Computrols ensures accurate billing and the elimination of lost revenue.
In our experience, we have found that overtime requests increase by more than 10% when upgrading to a web-based platform. This system will effectively increase tenant satisfaction, reduce operating costs, and likely increase revenue.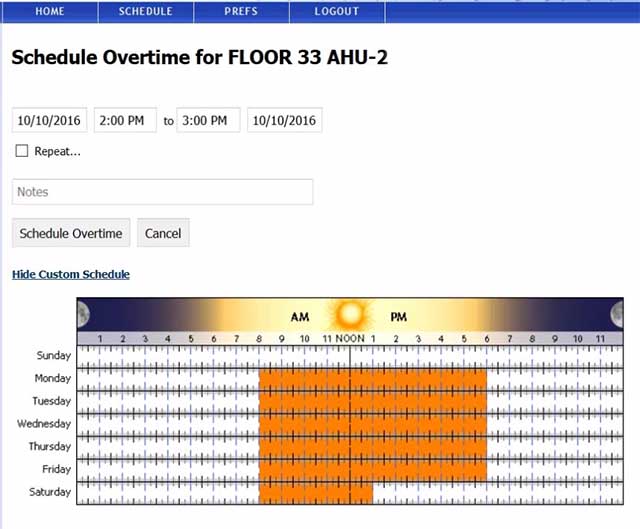 You Own The System
Perhaps the most appealing feature of CBAS Web for building owners and managers is the one-time cost. Instead of charging an ongoing monthly fee for the hosting of our software, our customers own their web server and have no recurring costs for using the platform. This means after hours billing will start paying for itself immediately!
*Off site hosting is available upon request*
CBAS Web Overtime Billing Features
Intuitive Online Portal for Tenants
Automated Invoices
Measures HVAC, Lighting, KWH, and BTU Consumption
Variable Rate Billing
Improved Energy Efficiency
Reduced Operational Cost
Increased Tenant Satisfaction
Increased Revenue
One-time Expense for Building Owners