"Just how well is the cool room operating?"

Thermochron Data loggers, wall mounted inside the cool Room can be easily downloaded once a week by touching them with the TempTec-R reader. The Thermochrons will keep logging, and their files downloaded all in one go to the office computer. The files can be sorted, graphed and scrutinised in the T-TEC software. With a minimum of 9 Loggers in the same coolroom, the readings can even be shown as a movie in DyMap.
"We want to be able to see the graph on the spot"
The TT202 temperature chart recorder, self-contained and mechanical, battery driven can be put on a shelf inside the cool room. The chart must be changed once a week.
"We need to be alerted if the cool room gets too warm"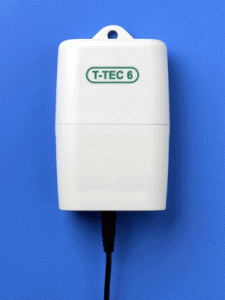 The T-TEC 6-1RE datalogger with relay output can activate an alarm — visual, audible or a telephone dialer. The data logger can be set with maximum or minimum alarms and grace periods before alarms are activated.