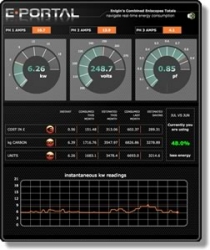 The UK government is injecting 6 million pounds to develop smart technology, to make the country's homes and businesses energy efficient.
2020 is the targeted deadline by which all homes should be equipped with a basic smart meter to make electricity use more efficient by raising consumer awareness thus leading to reduced carbon emissions.
Enigin provides the Eniscope – A Real-time Energy Management System that not only measures consumption but is also able to identify where energy is being wasted – giving business owners a 'virtual energy manager" 24/7.
The data collected is accessible in real time from any PC, laptop or iPhone in the world, in an easy to read format. There is even the option of a Public Display that will provide vital energy-saving information in full-colour salient graphics – giving any business those essential 'green credentials'.
Once energy leaks are identified – Enigin then has specific energy efficient products that business owners can install, allowing them to save money on energy bills and participate in reducing their carbon footprint.
As governments increasingly impose new legislation and policies for CO2 reduction, businesses worldwide are turning to Enigin PLC's energy saving solutions, to comply with these new regulations and stop losing money on overly high maintenance costs.
Energy and Climate Change Minister, Lord Hunt, said: "Smart meters will put the power in people's hands, enabling us all to control how much energy we use, cut emissions and cut bills." Basic Smart Meters will be distributed across the UK by the end of 2020, according to the Government, aiming to give more control to the consumers about the choices they make in relation to energy usage, in turn allowing them to save money.
Enigin PLC's Eniscope takes energy management to a whole new level making the invisible… now visible.
Wednesday 2nd December 2009