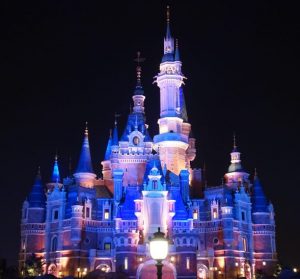 2017-06-20 Xinhua News Agency reporter Liu Xue
Source: China Financial Information Network daily limit
Core Tip: Snow White Castle in the stove, Mickey Lodge summer cool breeze blowing, roller coaster needs compressed air. Shanghai Disneyland as the world's first application of natural gas distribution of hot and cold power supply technology. The power Disneyland, Paradise used in the park comes from Shuangliang technology.
Snow White castle heaters, Mickey hut summer breeze blowing compressed air roller coaster all needed energy to run. Shanghai Disneyland has the world's first application of natural gas distributed CCHP technology by Shuangliang technology.
Natural gas is clean and efficient energy, but the traditional natural gas power generation efficiency is only about 40%, while the natural gas CCHP energy system can increase energy efficiency to more than 80%.
Shanghai International Tourism Resort Distributed Energy Centre is Shanghai Disneyland's "energy station", with five gas-fired turbine generator sets and five flue gas hot water type lithium bromide absorption hot and cold water unit.
Through the pipe network system and cable, energy centre to the park to provide cold, heat, electricity, living hot water, compressed air and other energy. In 2016, the energy centre power generated more than 80 million kWh. This year, power generated so far (till Jun) is more than 6000 million kWh, and is expected to generate more than 120 million kWh of electricity.
In the energy centre, filled with silver and black piping, machinery and equipment operate in almost dust free environment. Shanghai International Tourism Resort new energy company engineer Zheng Jianhui said that the use of natural gas power generation company in the United States GE gas engine generator sets, generating efficiency up to 45.4%.
Flue gas hot water type lithium bromide absorption chiller unit is developed by Shuangliang Co. Ltd. The device can be effective for high-temperature and high-temperature flue gas cooling. Water discharged from the generator set further saves energy for the entire park area for cold, heating. Energy efficiency will increase by 40.5%. At present, the integrated energy centre project overall energy utilization rate can reach 85.9%.
"Shuangliang company bromine cooler Division", said senior engineer Zhang Changjiang,
"provides flue gas hot water type lithium bromide units hot and cold supply of energy is environmentally friendly and efficient." The Shanghai Disneyland uses the high differential temperature generator set and one gas engine. Refrigeration operation can cool down water temperature from 15.6 degrees Celsius to 6 degrees Celsius, the heating operation can heat up water from 65.5 degrees Celsius to 90 degrees Celsius.
The distributed energy centre is also equipped with two large storage tanks to save energy and regulate the use of crest factor (peak and low current). During the night operation, the cold water and hot water created as a by-product are stored in different storage tanks. During the hot and cold water are reused for cooling and heating for the park. This greatly increases the number of operating hours of the distributed power supply system and improved Green energy utilization.
The "energy station", which serves the Shanghai Disneyland, has become a low-carbon energy-saving model for China's clean and efficient use of energy and has been awarded the "China-based Energy Excellence Program by China Energy Research Association, China Renewable Energy Society prize".
Through the efficient use of natural gas clean energy cascade use, the project not only meets the Shanghai International Tourism Resort core area of all its energy needs. The system saves 21883.08 tons of standard coal yearly, reduces carbon dioxide emissions by 75541.87 tons, equivalent to reducing 40,000 tons of trees through deforestation every year.
In recent years, China vigorously promotes low-carbon energy-saving, more and more distributed energy comprehensive utilization project is in development. Shanghai Energy Development "13th Five-Year Plan" proposed to actively promote the use of solar energy (6.22 -0.16%, diagnosis) the use of diversified and innovative development, focusing on industrial and commercial buildings, public buildings roof, industrial park implementation of distributed photovoltaic power generation project.
May 25, Shanghai's largest single-rooftop distributed photovoltaic project Qingpu Xie Xin-Rong power station and network. Qingpu GCL Nang Rong station is located in Qingpu District, GCL is a new energy grid this year's first distributed solar projects with a total installed capacity of 6 MW, annual power generation of about 6.8 million kWh, the service life of 25 years.
The power station in the seawater fishery breeding base to build 10 greenhouse stent, the roof of the construction of photovoltaic power plants, the green power supply owners to use, to meet the land seawater fisheries in the temperature control, circulating water and other aspects of the power needs, effectively reduced Owners' electricity costs.
Association general manager of Shanghai Branch Xin Tang Jun introduction of new energy, new energy GCL start from the aspects of photovoltaic power plant design, construction, improve the utilization of the roof, "in 48,800 square meters of existing installed capacity to reach large roof, the roof than the average distribution PV stations increased by 33%. "
China's "thirteen five" plan made it clear that in 2020 the national unit GDP energy consumption than in 2015 fell 15%, unit GDP carbon dioxide emissions than 2015 down 18%. Zhou Da-ti, a researcher at the National Development and Reform Commission's Energy Research Institute, said China's goal of reaching the peak of carbon emissions around 2030, with China's low-carbon energy-saving technology being promoted, is expected to be achieved by 2025 or even early to around 2022 Carbon dioxide emissions peak.