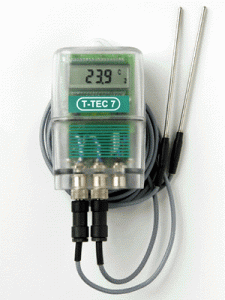 "The driver wants to keep an eye on the temperatures"
T-TEC 7-3F data logger with display and 2 remote sensors may be placed in the cabin with one sensor mounted in the return air and the other mounted above the goods. The display shows an alarm if the temperature has come out of range. This logger also comes in a wireless version.
"Customer needs to see the core temperature"
RT-602 electronic probe thermometer is handy to have if a customer insists on checks of the core temperature of products. The RT-602 has self-calibration feature and tapered stem for quick readings.